MAYORAL AFFAIR
In 2012 Nolan Crouse championed our first Inclusive Hiring lunch. Since then, the annual event has grown with other mayors such as Mayor Iveson and former Mayor Roxanne Carr joining their voices to build momentum.
Inclusive Hiring may be an approach to address "employment for under-supported groups" when in fact, if meaningfully implemented, the approach creates an inclusive work culture that accommodates all employees. 28% of employees are known to not reveal their barriers to employers. With this in mind, our 8th annual event on Inclusive Employment has grown with the aim to inspire and operationalize! The event has transitioned from a Luncheon to a half-day Conference and is geared toward employers and the business community. The support and presence of the service provider community and government is just as important to deliver the message.
This year's theme: A Universal Design Approach to Workplace Inclusion
Goal:Support Economic Growth through Inclusive Workplaces – Build industry and employer capacity to increase and enhance workforce participation of newcomers, youth, Indigenous peoples, women, mature workers, workers with low literacy and people living with a disability.
According to The Economist (2018 March), the advancement of traditionally under-represented groups in Canadian society, from those with disabilities to Indigenous peoples, has been far too slow.
Inclusive hiring practices and inclusive work cultures have high impact on the recruitment and retention of all employees even though it may begin for an individual with disability.
The project begins and continues evidence-based practices on inclusive hiring practices that go beyond the surface. 91 percent of highly inclusive firms believe their organization has what it takes to persevere in the face of adversity, but only 40 percent of less inclusive firms can say the same (Roberson, 2017).
Even if employers want to hire a person with a disability, there typically is no place to go to ask for information or guidance. One way to tackle this tough problem is to identify positive efforts under way in the country and to build on that good work." – (Caledon Institute of Social Policy – Disability Supports and Employment Policy, Oct 2016)
Hear from Mark Wafer our Keynote Speaker (https://www.tvo.org/video/mark-wafer-enabling-the-disabled ), Celebrate Community Champions, Receive a Toolkit on Inclusive Hiring in your Company and take part in a Panel Discussion and Networking with like-minded business leaders .
Tickets are $40 each ( Table Discounts available)
Event Link: https://www.eventbrite.ca/e/mayoral-affair-tickets-71535543737
In addition to the previous years we are adding an award component, below is the contest layout for those voting (you are welcome to submit!) :
A Community Choice Award , this award is an online form that will allow people from the community to vote for their favorite Inclusive Company. Winners will be selected by our Chambers and a committee and presented with their award at the event.
What is the Community Choice Award?
This year Gateway Association will host an online nomination https://gatewayassociation.ca/form/ where anyone from the community can nominate their favorite inclusive employer!
How many times can you nominate a business or a professional ?
You can nominate your favorite business or person once every 24 hours, each nominate goes to committee to vote.
Do we receive anything for being a chosen as the winner for our city or town?
Yes you will asked to join us for our Mayoral Affair as a participant and award winner with presentation and story on social media.
What Cities or towns can you nominate people in?
Edmonton
St. Albert
Spruce Grove
Stony Plain
Leduc
Strathcona County
Devon
Fort Saskatchewan
Beaumont
Morinville
We hope you will consider joining us again or for the first time and supporting this well attended event.
About this Event
DETAILED BREAKDOWN OF DAY
1 pm – 1:15 pm Networking and Settling into Tables
1:15 pm – 1:25 pm Mayoral Welcome Mayor Cathy Heron (St Albert)
1:25 pm – 1:45 pm Pecha Kucha Presentations
1.Fears and Misconceptions (Mark Farr – City of Edmonton)
2. Business Case (Mike Libre – Dairy Queen Franchise Owner)
3. Cultural Benefits (Annamaria LeMaistre – Enbridge)
1:45pm – 2:30 pm Presentation – Universal Design Approach to Inclusion by Renate Burwash (Gateway Association) and Sean McEwen (Real Eyes Consulting)
2:30 pm – 2:45 pm Networking/Break
2:45 pm – 3:45 pm Key Note Address and Tool Kit Mark Wafer – Tim Horton Franchise owner, Inclusive Hiring Champion and Business Leader, Inclusive Business Consultant
3:45 pm – 4:15 pm Expert Panel Mark Wafer, Dr. Ian Gellatly UofA), Renate Burwash, Sean MacEwen, Heath Birkholtz (Self Advocacy Federation), Mark Farr, Ada Tai (Grant MacEwan – Moderator)
4:15 pm Post Conference Survey Announcement
4:15 pm – 4:35 pm Mayoral Awards Presentation for Inclusive Business Leaders Mayors and Award Recipients
4:35 pm Closing remarks
Draw prize for completed survey
4:40 pm – 6 pm Networking, Tradeshow, Surveys
For Sponsorship or to purchase a table please contact: Katie Suvanto 780.454.0701 Ext 101 or by email: katie@gatewayassociation.ca
Etransfers or Cheques are also accepted as a form of payment.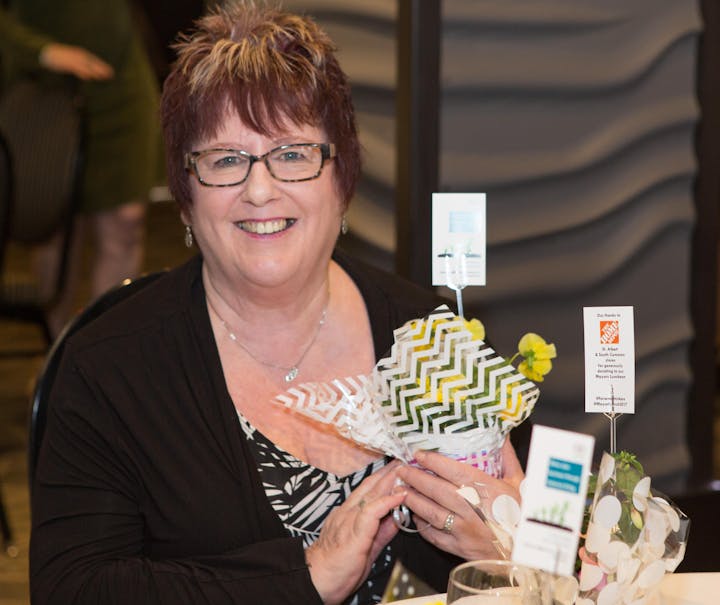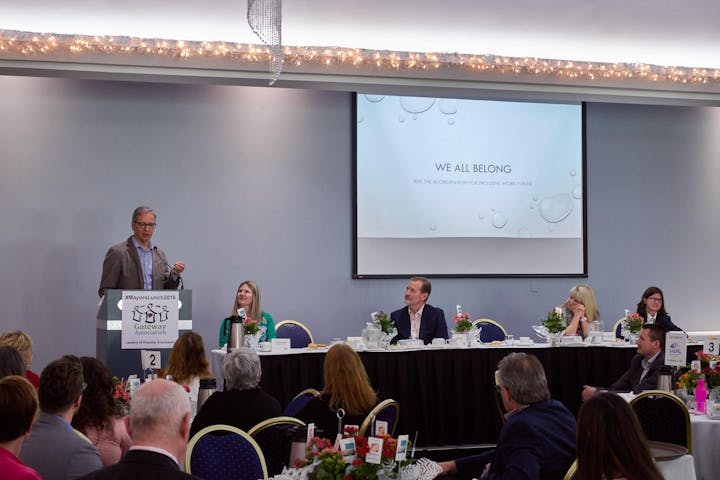 More News